The dollar continues its fall from the January 2002 peak. However, it is not as bad as some people believe. We have merely returned to the level where the U.S. dollar index as prior to Secretary Rubin's initiation of a "strong dollar" policy began as shown in this chart.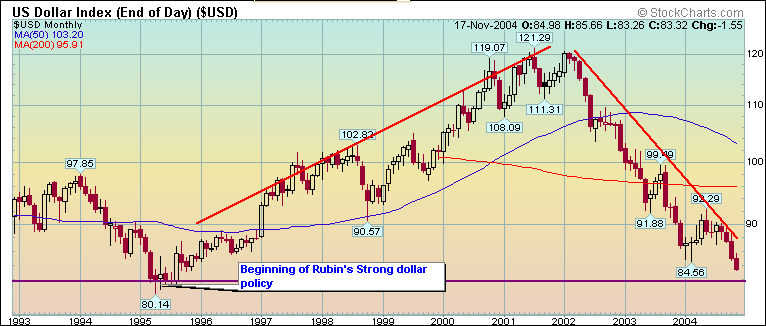 The dollar's role as the world's reserve currency is now tenuous, at best. The combined trade and federal deficit for 2004 is about $1 trillion. Since the 1980's when the trade surplus turned into trade deficits, a large portion of our twin deficits have been financed by "vendor financing" through the re-cycling of trade dollars into government bonds.
In the telecommunications industry, we saw the end-game in 2000 when the "vendor financing" of equipment ceased and the over-capacity within the sector caused many companies to either take major write-downs of account receivables or declare bankruptcy. Even today, in the fiber-optic field, we see capacity utilization of less than 25%.
Now substitute fiat dollars for the account receivables in the "vendor financing" equation. The over-abundance of dollars held outside the U.S. and the more than 50% of U.S. Treasury securities owned outside the U.S. has created a situation where the holders are becoming uneasy about the value those dollars and securities represent.
With the increase of the legal credit limit for the U.S. to $8.1 Trillion, or about 75% of our GDP, foreign holders of our dollars and government securities have become increasingly nervous. The per capita debt for just the federal debt is now in excess of $25,000. Moreover, this fails to include the off-balance sheet liabilities for Medicare , Medicaid and Social Security obligations. The second chart shows the substantial increase by foreign holders and the current number now exceeds 50% as of September 30, 2004.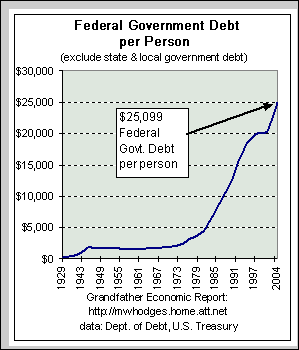 Clearly, this indicates that we have been living well beyond our means and the rate of acceleration since the beginning of the presidency of Ronald Reagan has been dramatic.
We have finally reached the point where our foreign holders have begun to consider the alternatives to holding the dollar as a storehouse of wealth. Despite the current economic outlook in Europe, many nations are beginning to lower their dollar reserves and replace those holdings with currencies like the Euro or gold. It started in the 1st quarter of 2004 but could quickly turn into a stampede.