Since August, the growth of the various components of the money supply has changed direction. Prior to August, the Federal Reserve had been increasing the money supply at a rate that was clearly unsustainable without creating major inflationary pressures and causing foreign investors anxiety about the value of their dollars.
Coupled with lowered interest rates, money supply growth found its way into the stock market, the housing market and into consumer spending via the refinancing of home equity.
However, since August, the trend has changed as shown below.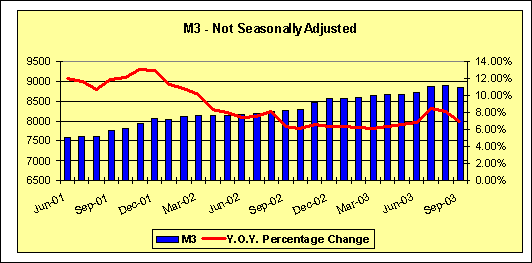 This chart was taken from Jim Puplava's website where you can also see charts of M1 & M2 as well as the definitions for M1, M2 & M3.
So far, the decline in the money supply has not resulted in a noticeable decrease in economic activity. However, in the past, a money supply decline has affected economic growth in a negative sense.
The release of this month's Producer Price Index (PPI) has brought to the forefront the possibility of inflation increasing. Rather than a modest 0.2% increase, the PPI increased by 0.8% in October against a 0.3% increase for September beating most analysts expectations. For the year, the official PPI increase is just over 3.0%.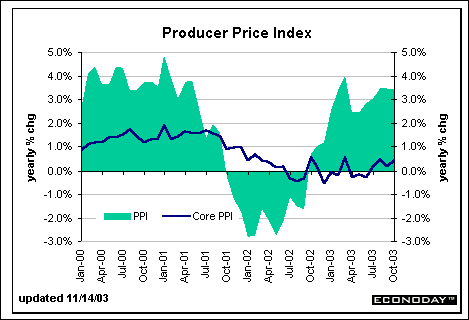 Sometimes, I wonder why we even have government statistics. The CRB index of commodities has been hitting new highs as shown in the following chart.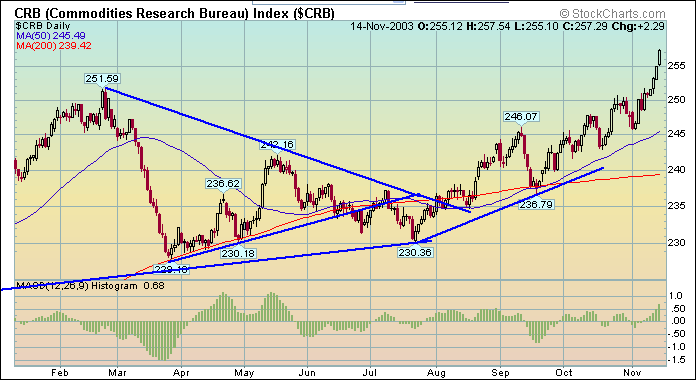 There is little correlation between the PPI and the CRB. Personally, the CRB index reflects more accurately the cost pressures facing corporate America.
With harvest largely completed in the Midwest, we are seeing corn, soybean and wheat prices move into new high ground. Meat prices are also much higher.
China has been actively buying both food and metal commodities in world markets. During the New Orleans Investment Conference, several speakers suggested that we have seen the bottom of prices for many raw materials as the domestic demand for products within China will require them to import increasing levels of raw materials in the future. As a result, stocks in raw material companies required by the Chinese manufacturing complex should benefit. This would increase iron ore, coal, scrap steel, oil, copper as well as food commodities.
If you have not looked at the Chinese stock companies, perhaps, it is time to do your research.