Adam Smith postulated that wealth can only be created through asset creation and/or the exploitation of natural resources. The following chart shows that the percentage of U.S. labor engaged in manufacturing goods has fallen.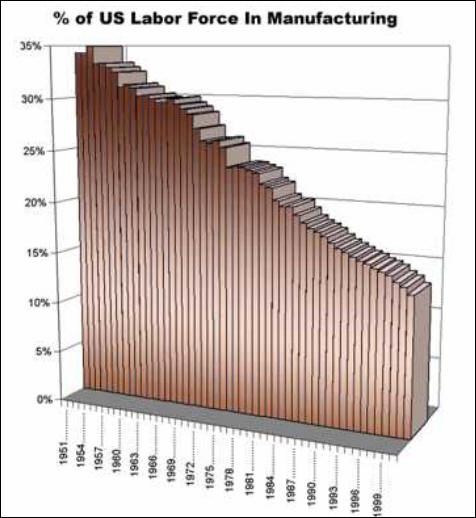 Paul Craig Roberts nailed the problem in his article in the March 7th, 2003 Washington Times when he wrote:
Adam Smith's argument for free trade is an argument against self-sufficiency in all goods and services. It is not an argument for exporting a country's productive capability to countries with the lowest labor costs.

An economy can, of course, stand some outsourcing. But when goods and services in general are outsourced, where is the economy?

The enormous untapped labor pools in China, India, Indonesia and the Philippines exceed in size the U.S. population. They are sufficiently large to hold down living standards and wages in those countries until all U.S. manufacturing and information technology jobs have been outsourced in order to boost corporate profits.

The U.S. has become a service economy. Unfortunately, when a service economy is in trouble along with the world economy, services also become subject to the low-cost syndrome. During the last 50 years, manufacturing jobs have moved overseas.
Today, we are seeing an increasing exodus of professional and service jobs to 3rd world nations. For example, Microsoft has 1,300 PhD's working in Beijing of whom about half received their training in the U.S. McKinsey & Co., a large multi-national consulting firm, sends a lot of its consulting support work to India for cost-savings as well as being able to take advantage of the difference in time zones.
When NAFTA became law, U.S. labor unions were worried about jobs being exported to Mexico. Today, Mexico is worried about jobs being exported to China and other 3rd world countries.
The real problem is labor costs. The average labor cost in manufacturing in the U.S. is $15 per hour whereas in China, it is $.35 per hour. Some difference. There is a limit to the productivity game. Many years ago, our company build the most modern production facility in the world in our industry. Our American directors were against installing the equipment in our Hong Kong facility until we explained about the difference in both labor costs and manufacturing efficiency. With that plant operating, we were the lowest cost producer in the world and in a short time held 80% of the world market.
If we are truly on our way to a global economy, one of the major problems to overcome is the vast disparity in labor costs and standards of living. In fact, because of this disparity, it is my belief that the multi-national economy is doomed to failure. Recently, an article in a newsletter proposed a global minimum wage for workers.
At some point, national or associative self-interest will redraw the geo-political map. At a recent meeting, I was asked, "How do we stop the decline of U.S. living standards?" My answer was simply this, "Stop buying foreign made goods?" If the American consumer refused to buy goods from overseas at Wal-Mart and other discounters, what do you think would happen?
The following graph shows the rapid growth of the deficit in the U.S. current accounts since 1991.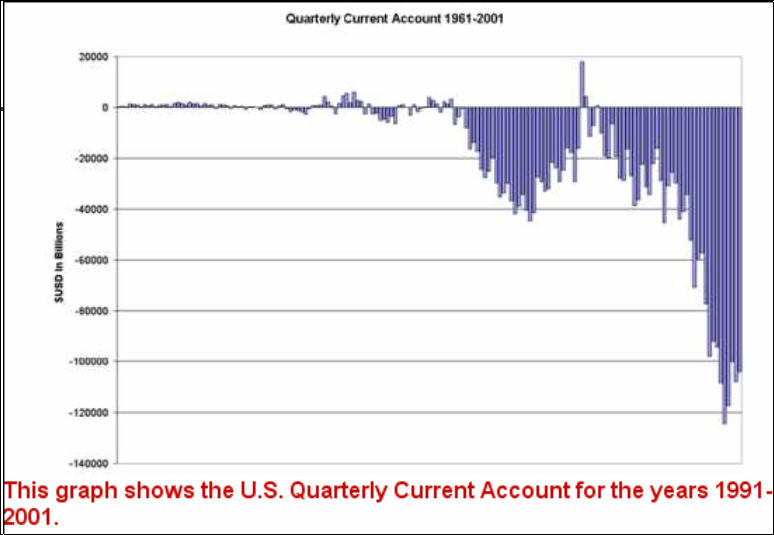 Just how much longer will our creditors allow this to go on?