In the opinion of many Wall Street gurus, the invasion of Iraq will initiate a new bull market. Quite frankly, I have my doubts. Corporate profits eventually dictate the valuation of stocks. For the past three years, these same gurus have been promising improvements sometime in the near future but have failed to deliver. Remember that Wall Street is a sales-oriented business. When was the last time a stockbroker called a client to sell a stock like Lucent at $80, Home Depot at $50, IBM at $120, or GE at $50, ad nauseum. It is very rare.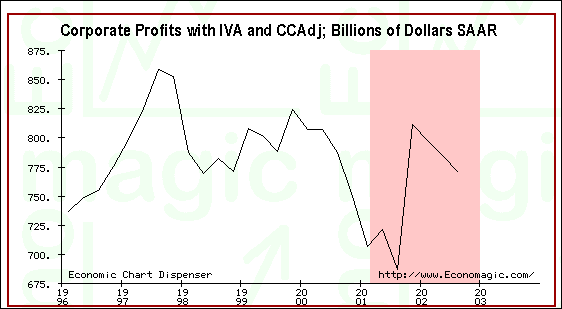 Based upon the 4th Quarter 2002 earnings reports which show about a 30% decline over the 4th Quarter of 2001, the trend of corporate profits is down. Despite a drop in the market indices, the S&P 500 is not cheap. The S&P 500 P/E ratio based upon GAPP accounting standards is about 29, or about double the long-term trend line.
Unless profits increase, there is a chance that the S&P 500 index could fall to the 400 level if the P/E ratio just returns to the mean trend line.
If you read carefully the guidance numbers which have been published in the last two months, the majority of CEO's do not see major improvement in corporate profits for the next few quarters at a minimum. In fact, a number of firms have dropped the concept of providing guidance as the crystal ball has become too cloudy.
Since 2000, many firms have used financial engineering to make improve profits levels. Layoffs, downsizing, sending production off-shore to obtain lower costs and selling assets are some of the techniques used to obfuscate the corporate profit picture. However, these financial engineering techniques can not overcome the basic problem facing the US economy . . . a lack of robust GDP growth in real, non-inflationary terms.
Until either corporate profits increase or price/earnings ratios return back to long-term trend lines or below, this market is vulnerable to further decline.