During the past 30 years, the movement of our manufacturing facilities offshore parallels the change of the U.S. status from being the world's largest creditor nation to its largest debtor. The following chart chronicles the steep decline in the U.S. trade deficit.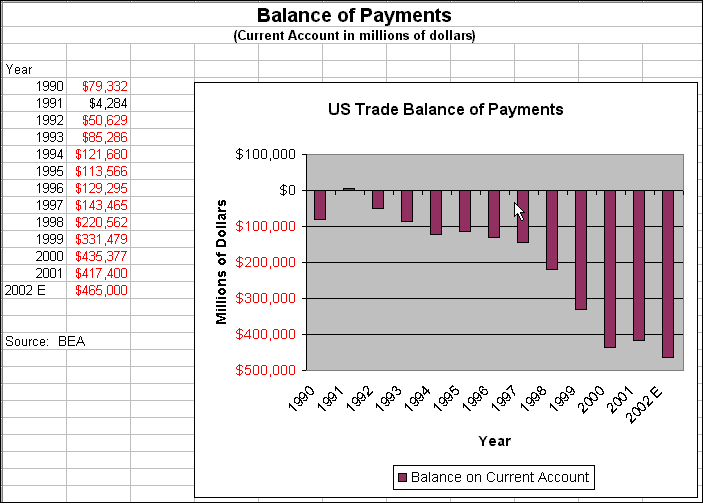 Our insatiable demand for low-cost costs in discount stores and oil is largely responsible for the tremendous growth in our balance of payments deficit. June was trumpeted as being an improvement although the June trade deficit was still the second largest in history. Some improvement.
Despite a 17% decline is the US dollar since January, US Exports have not risen significantly. One reason is that the U.S. manufacturing capacity has moved overseas. A second reason is that the world economy is not in great shape. The old adage . . . "when the U.S. gets the flu, the rest of the world gets pneumonia" is true.
Other than agriculture, avionics, high end computer technology, and oil field equipment, the ability of the U.S. to export products has changed dramatically since 1990. Apparel, shoes, fabrics, many fabricated products, and machine tools are no longer manufactured in the U.S. As the factories have moved to lower wage countries, it should be obvious to our policy makers that increasing exports is going to be extremely difficult in the future.
Of course, the most frightening aspect of this policy is that without the manufacturing infrastructure, our capability of building military equipment has been greatly compromised. Two years ago, a report to the Defense Department warned that as the Defense Department had sold as surplus the equipment to make rifle, mortar, and heavy artillery ammunition, the ability to rebuild war stocks of these items was of major concern. And many components of our so-called smart weapons had to be acquired from companies located outside of the U.S.
Over twenty years ago, the dearth of our manufacturing capability became starkly clear to me. We tried for over six months to find capable tool and die makers for our company and were unable to find any skilled workers to fill the positions. It is seriously doubtful if the situation has changed today.